Not sure what the difference is between Active and Passive Claims Management? Check out our latest video featuring Magnolia Agency Principal & Co-Founder Rich Varrato as he explains the differences as well as the advantages of Light Duty and how it applies.
Passive Claims Management: You get a claim, you submit it to the carrier, and you allow the carrier to close it out as they see fit.
Active Claims Management: You get a claim, you reach out the claims adjuster, you figure out a game plan, and you stick to the script. Then there is regular communication with the claims adjuster until that claim is closed out.
Light Duty and Return to Work Programs
We are experts at mitigating workers' compensation claim payouts. One of the best ways to mitigate payouts is by offering light-duty to your injured workers. We have successfully and creatively offered light-duty work solutions for our insured's injured workers whether or not the business has light-duty work available.
Check out one example below from a happy Magnolia Agency Customer.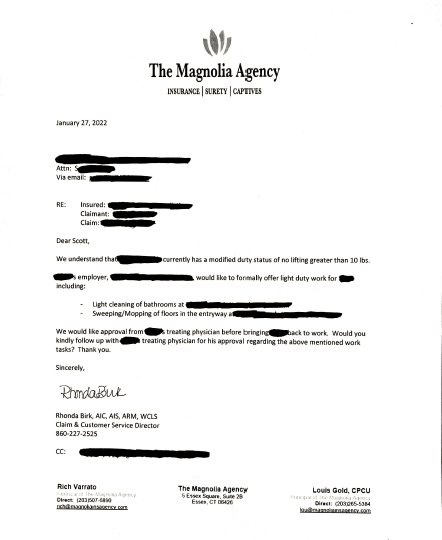 Reach out today if you'd like to learn more about the Active Claims Management process or Return to Work program.